Post by $*CrazyHick*$ on Apr 20, 2009 14:42:50 GMT -6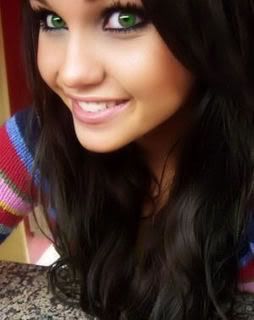 Amelia Leanne Finch
southernblues.proboards.com/index.cgi?board=horses&action=display&thread=348
She left that loser in a dust cloud
Heart in his hand, chin on the ground
Cried her last tear for that clown
She can see a little clearer now
She said, "Oh, oh, I gotta go and find me"
Oh, oh she found the strength to break free


Like a painted wild mustang
Flyin' out across the open range
Finally gets to live her life that way
No fear, no fences, nobody-no reins

No reins
Amelia & Screaming Nightmare
The day had started off like none other. Amelia awoke to find nothing disturbed in her room. She walked into the bathroom where she looked at herself. She ran a brush quickly through her hair looking at the green eyed beauty who looked back the fine tan looking blissfully great. She gave a smile and ran back into her pretty preppy room plopping on her bed relaxing there for mere moments before getting up making it then heading around looking for her clothes in the closet. Her room was was of lime greens, pinks and purples consisting of little green rain frogs since she thought they were just adorable little creatures. She sighed and grabbed some old pants and a t-shirt to just pull on then stopping momentarily to look at the golden finch tattoo she had on her shoulder which her mother made her get for the finch crest. With that she went back into the bathroom and pulled out her makeup where she plastered on some eyeliner making her green eyes stand out among the black eyeliner. Then she applied some mascara making her eyes appear wider but not to wide letting you know they were green. Her hair was jet black her lips a rose bud pink and her face so much younger making her seem like she was fifteen or sixteen but merely her age was eighteen. Happy with the way she looked Amelia smiled and twirled around in front of the mirror. She then pulled on her justin boots and went downstairs.

She went into the kitchen grabbed a banana something that wouldnt ruin her appetite to soon after all she was going riding on that large trail today that she had been eying for some time now. Amelia yelled up stairs to her still sleeping parents "MOM DAD im going out see yall later today." With that Amelia pretty much inhaled her banana drank some water so she wouldnt be dehydrated out in the sun. She looked out the window noting t he cloudy sky nice day and it was still morning she was making good time so far so good. She then proceeded to the barn at a dead run a smile on her face ready to see her pretty stallion whom she admitted was very fond of her. She ran her feet crunching on the ground her long black tresses billowing out behind her like silken snakes chasing after her a big giant smile on her face she called out to the bar inhabitants receiving several neighs and whinnies and even the longest one who she knew was Nightmare. She made it to his stall looking over the stall door grinning like a big old retard she shook her head as Night approached her licking up the side of her face and lipping the strands of hair in a greeting. "Hey there you sexy thang you" Amelia said stroking the silky peltage. Night nickered to her softly "you wanna go on a ride" she asked her horsey petting his black spotless coat. He tossed his head up and down another nicker coming from his mouth.

Amelia opened the stall door clipping a lead to the fifteen hand Arabian stud. Yea thats right he was up for stud in this place though she hadnt had any takers yet she was new to this place after all she wasnt in any hurry either. Amelia grabbed Nights soft brush and began to brush over his silky pelt combing his mane. She proceeded then cleaning out his hooves getting rid of any debris or small pebbles that could make her prized stud go lame which wouldnt be very good at all. Amelia went into the tack room deciding to go with a western saddle since it was indeed a trail and if she had to jump anything she was screwed and it was going to have to hurt jumping cause she didnt feel to safe jumping out in the wilderness of the wild. Night snorted softly swishing his tail he was jittery and Amelia shook her head. She picked up the saddle blanket examining it carefully making sure there wasnt anything on the pad that would bother Night nor harm him or rub him raw. With that done she slid it on over his withers getting it just right. Then with that she proceeded with the saddle hauling it up on him. She cinched him up and pulled on his bit and bridle. However she tied her lead rope to the saddle never knew when you would need to take a small break.

She lead her stally out into the open before saddling him and getting comfortable. She felt tall and ready to take on the road before her and she knew she was highly capable of doing so. With that Amelia nudged him on in a slow steady walk his harks perked his black pelt shining forth. Rider and horse in sync with one another. Amelia sighed and nudged Night into trot getting to the trail and finally slowing his pace once more. "Today is a nice day though boring but Im just riding for whatever reason" she said "maybe we can find you a girlfriend out here boy" Amelia laughed gently stroking his neck and he himself nickering like he was laughing with her.
[/blockquote]

All she's ever felt is held back
She says, "It's kinda nice to hear myself laugh"
She's gonna do a lot more of that
She's makin' plans and makin' tracks
She said, "Oh, oh I gotta go and find me"
Oh, oh she found the strength to break free

Oh, oh she's learnin' how to let go
Oh, oh whichever way the wind blows
Oh, oh she's learnin' how to let go



No reins