Post by wildmustang101 on Nov 19, 2009 11:34:42 GMT -6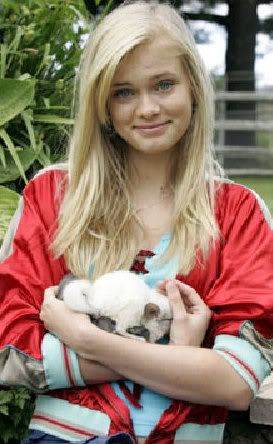 Sara Hill Lexington
xxBasics
Full Name
;; Sara Hill Lexington
Nicknames
;; people call her Sara
Gender
;; female
Age
;; 18
Birthday
;; February 14, 1990
xxAppearance;; picture
Height
;; 5'6"
Build
;; slender but tough
Hair Color
;; Blonde
Hair Length
;; shoulder
Eye Color
;; blue
Skin Tone
;; tan??? look at picture
Tattoos
;; none
Piercings
;; none
Disabilities
;; she can never talk to a really hot guy she likes
Clothing Style
;; mostly casual for the barn
xxPersonality;; she's sweet, calm, cool and collected around friends. sara also is very kind and caring when it comes to animals
Likes
;;
horses

riding

going for a trail ride

being around horses

hanging around Fire Arrow

Dislikes
;;
animal abusers

animal haters

horses being abused

animals being abused

anyone who's mean to their animals(cats, dogs, horses)

Negative Traits
;;
she sometimes gets into fights whether she started one or not

she tends to be in the wrong place at the wrong time when a fight breaks out

usually she IS in the wrong place at the wrong time when fighting occurrs

Temperament;;
Sara's temerament is pretty fair i'd say. i mean, she gets in the middle of fights whether she started it or not and tends to get angry when someone tries to 'get-to-know-her.' Sara's equivalent to prying.
General Outlook;;
Sara's general outlook is: Sara's really calm, cool and collected around friends. There's nowhere else on earth she'd rather be than in a barn with her Arabian stallion Arrow. She always has the latest 'casual trend' when the seasons change. she has somewhat of a negative attitude to someone who tries and pry her open. all-in-all, she's really hard to get to know.
xxHistory;; Sara's life began in London, England. She was born here and grew up here. It wasn't until Sara was 14 that her parents bought a wild Arabian stallion for her. As soon as she had touched Arrow's muzzle, they immediately formed an unbreakable bond. Sara has had Fire Arrow for two years. Ever since, Sara and Arrow have been best friends for life.
Hometown
;; London, England
Parents
;;
Father
: Rex W. Lexington
Mother
: Susan Hill Lexington(her mom's maiden-name: Susan Hill Venture)
Siblings
;;
Brother(s)
: Kale W Lexington & Barden Vent Lexington
Other Relatives
;; none
Past Horses
;; Moongem-6yr old mare-Arabian; Moonstone(Moongem's daughter)-5yr old mare-Arabian
Started Riding at Age
;; 4
Major Events
;;
Show Jumping

Dressage

Tricks

xxOther;; nope
Favored Riding Style
;; English
Favored Discipline
;; Tricks
Current Horse(s);;
Fire Arrow-3yr old stallion-Arabian
Riding Level
;; experienced
Theme Song
;; What Could Be Better?(it's a christian song so...yeah

)
Hobbies
;;
riding/competing

reading/writing